The Wing Tel App is our version of a one-stop shop without having to travel anywhere.
It includes all the easy-to-use features like Activity (tracking all recent updates), Usages (checking up on how much data you have left in your monthly cycle), Billing (directly paying for your monthly bill, changing your method of payment, etc) and 24/7 Customer Support. All your cell needs and decisions are neatly imbedded in the Wing Tel App's screens and friendly functions.
Among the handy features we've had in store for a while, fresh ones have recently emerged. Let's go over some of the brilliant new ways we've improved smartphone management within the Wing Tel App and, hopefully, encourage you to download and interact with!
Add Data
We know people go gaga for extra gigabytes.
So, as of this year, you can now simply add more data to your phone plan at any time on the Wing Tel App!
Some carriers make it complicated for cell users to add more data, or only allow data upgrades at certain times, but we make it easy. Now launched, our Add Data button found on the home screen of the Wing App upon login lets you add to your data amount until the end of your current cycle or for every cycle. If you have more than one line on your account, you have the option to choose which account wants more data.
Let's take a look at some screenshots of how it works: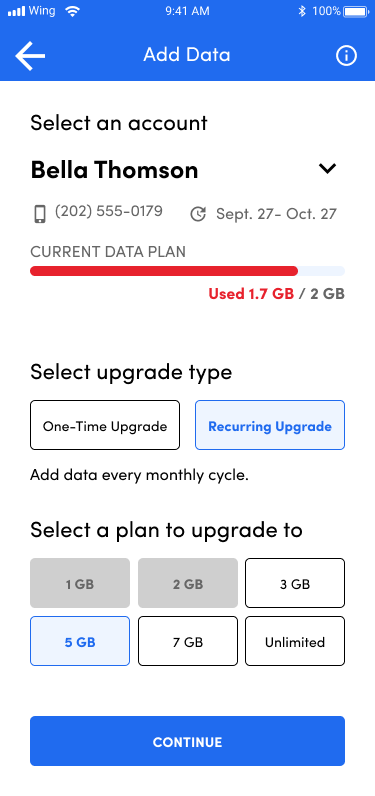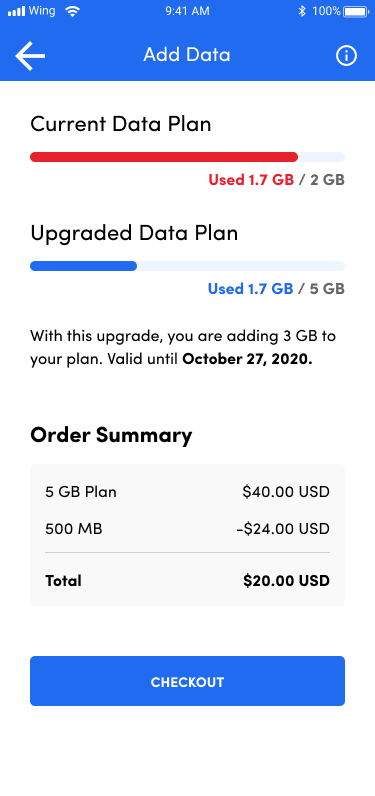 Whether you want more data temporarily or long-term, we make it simple for you to choose with this new feature.
Device Protection
Drop your phone off a bridge attempting to take a scenic selfie? Lose your phone in the grocery store while picking up some more toilet paper? Crack your screen from a clumsy phone free fallin' accident down your stairs?
We got you covered.
With our new Device Protection Plus plan add-on, partnered with Brightstar Device Protection, we ensure your phone will be protected at all costs!
Once branched off into multiple device protection plans, our fresh option covers all your device insurance needs under one roof. So it's ideal for people who have a hard time deciding what's more important for them to protect their phone from.
The Wing Device Protection Plus plan add-on starts at a simple cost of $5.95/month which offers users up to 2 claims in any rolling 12-month period (essentially twice a year if accidents happen), with up to a $1500.00 value limit per claim. In this way, you can be protected from more detrimental of cellular accidents directly through Wing that are usually more expensive to repair at a cell repair shop.

Click here to learn a little more about our Device Protection Plus.
It's a safe decision.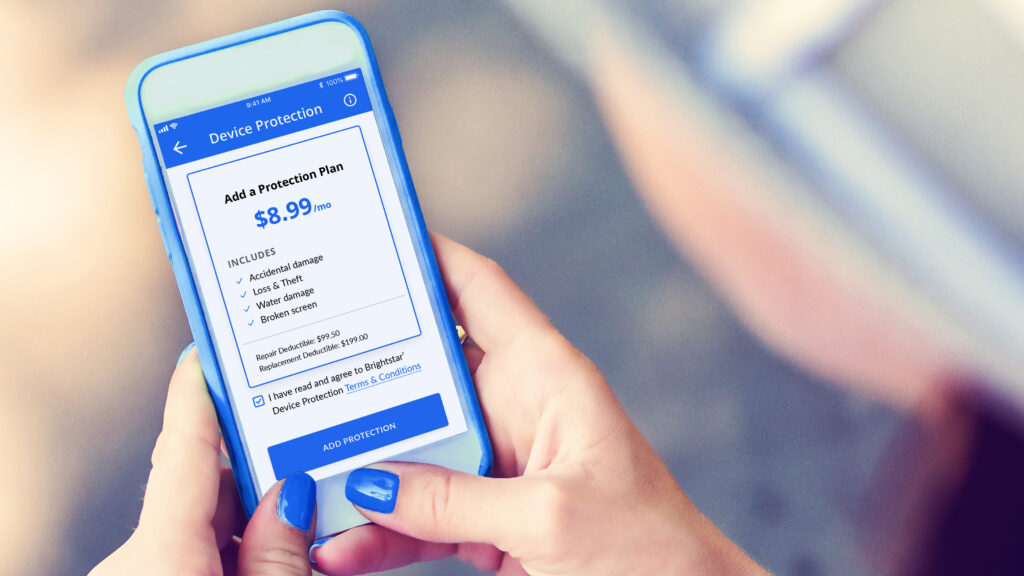 Pay When You Can
As an added bonus to our new Device Protection Plus plan add-on, you can make a payment arrangement that works for you!
What this means is you're able to schedule a date in the month where you can pay for Device Protection at your most convenient pay time. We'll still activate your Device Protection before that scheduled pay date. This makes it easier for our users to make payments on time and allow them the freedom to choose a date to pay without a tight deadline.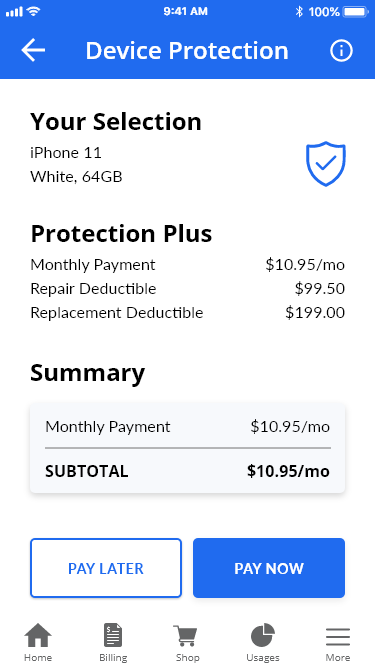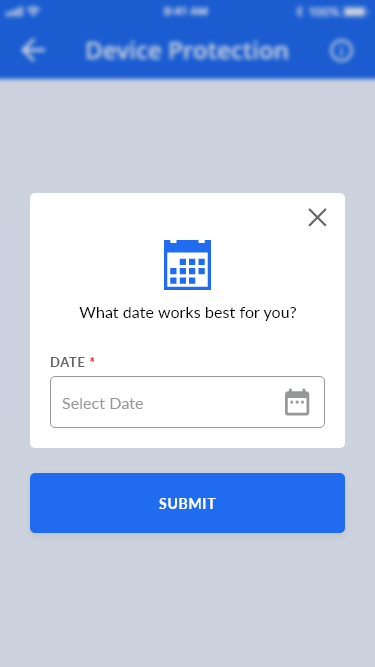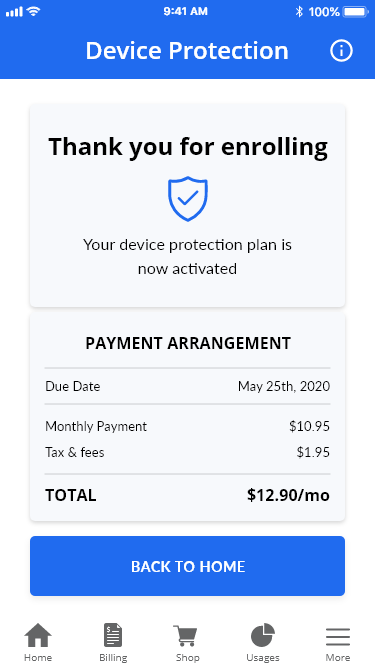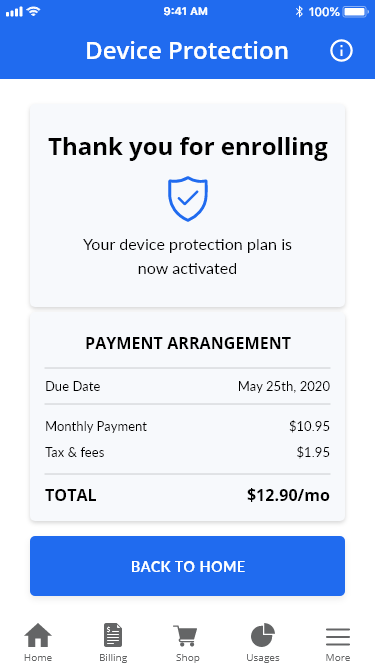 We understand cell users may feel pressure to pay x amount immediately upon decision making, so we continue to strive to make it work mutually.
How easy was that? With Add Data, Device Protection, and Device Protection Payment Arrangements on the Wing Tel App you're able to do more with a few finger taps on your smartphone screen. A sigh of relief for those who dread the drawn out plan change process.
If you're with us but don't have our app, we recommend trying it out as time is guaranteed to be saved.
For Apple users, download it here!
For Android users, download it here!