Most of us have a hard time distancing ourselves from our phone screens, but there's a solution for that!
There's a secret, smart way to transform your iPhone or Android from Willy Wonka's Chocolate Factory to grayscale that you might think is handy.
For those that find their phones too stimulating or distracting throughout the day, going gray could positively shift your focus.
The grayscale feature was brought to light by former Google design ethicist, Tristan Harris, with parental input to keep kids off their phones. Will children reach for a B&W phone the same as they would a vibrant, multicolored device?
But, it's not only children that will feel the effects of the newly dull mobile experience.
Since gray is assessed as lacking personality, unattached, and emotionless, according to Gray Color Psychology, it's only fitting for cell users wanting to cut their screen time to utilize this obscure feature. If nothing pops on your phone screen, then you may feel less inclined to play with it. You may have a different connection with your device, one that's less meaningful. Eventually, this can create more open time slots in your day to better use your energy!
Now it's ironic for us, a mobile carrier, to encourage you to spend less time on your phone- but it's an alternative display that's too cool not to share.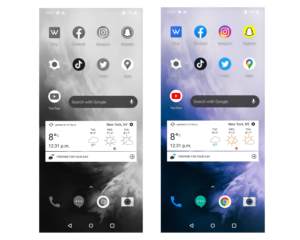 To enable grayscale for iPhone users:
Go to Settings
Select 'Accessibility'
Scroll all the way down to Accessibility Shortcut
Click 'Color Filters'
Once check marked, just triple-click the right side button and see the result. Triple-click again to turn off.
To enable grayscale for Android users:
Go to Settings
Select 'About Phone'
Tap on 'Build number' until you see a message that says you're a developer
Go back into 'About Phone'
Click 'System'
Click 'Developer options'
Scroll down and tap on 'Simulate color space'
Choose Monochromacy
And viola! You've now applied the very boring grayscale! It's not permanent, so you can always turn it on and off when you like.
Being compared to colorless cereal boxes that no one would buy because of the lack of appeal, the grayscale feature is intended to make your cell experience less sensational.
Maybe for some, grayscale will actually end up brightening their day.