5G is one of the biggest buzzwords of the year, however many people still don't know the 5G facts. Questions surrounding 5G technology and 5G networks demand truthful answers. This article will break down the truth about 5G by answering common questions about the popular unknown term such as what is 5G, how does it work, where is 5G available, how does it help me, and more. Learn everything you need to know about 5G networks below.
What does 5G mean?
5G is the fifth generation of wireless network technology, preceding 4G LTE and 3G, that is transforming and improving our mobile communications. This fifth generation offers better bandwidth, faster cellular service with more consistent coverage, and has the capabilities to take on more connected devices than its earlier generations. Wing is now a part of the 5G network.
How fast is 5G?
5G signals operate on new radio frequencies which travel through cellular towers. There are three different types of 5G networks depending on the wireless carrier's network abilities:
Types of 5G Networks:
Low Band (600 to 700MHz) – farthest travelling signal, reaches most people both indoors and outdoors due to wide coverage, 20% faster than 4G LTE – used by T-Mobile who has acquired Sprint
Medium Band (1.7 to 2.5GHz) – mid-range signal with 2-4x faster speeds than 4G LTE and good coverage – used by T-Mobile
High Band (Millimeter wave/mmWave) – super fast signal speeds but more difficult to travel through hard surfaces – used by Verizon, AT&T, and T-Mobile
Wireless carriers building their own fifth generation technology will install many small cell sites to light poles, walls, or towers that are usually within close distance to each other. This makes for super fast networks city by city. However, now, a major network carrier like T-Mobile can use all different network types.
How does 5G help me?
The benefits of 5G for wireless users include:
Faster network speeds such as faster streaming, internet browsing, app performance, and data usage
Greater bandwidth to handle more connected devices than ever before
Less spotty cell service in overpopulated areas
More smart product connectivity
Reduced latency (the time it takes for a cell or connected device to get a requested response from a server)
Improved cloud communication such as via Amazon Web Services
As you can see, 5G improves the wireless experience. But, how does it fare to its former generation? Let's find out.
How does 5G compare to 4G LTE?
The biggest advantage of 5G over 4G LTE are the faster network speeds. 5G is able to reach 10GB per second, which is said to be 100x faster than 4G. For example, downloading a full film over a 4G network will take approx. 50 minutes. On 5G, that same film will download in just about 9 minutes. Streaming and downloading is a lot quicker with the fifth generation Here's an infographic comparison from Thales Group that further breaks it down: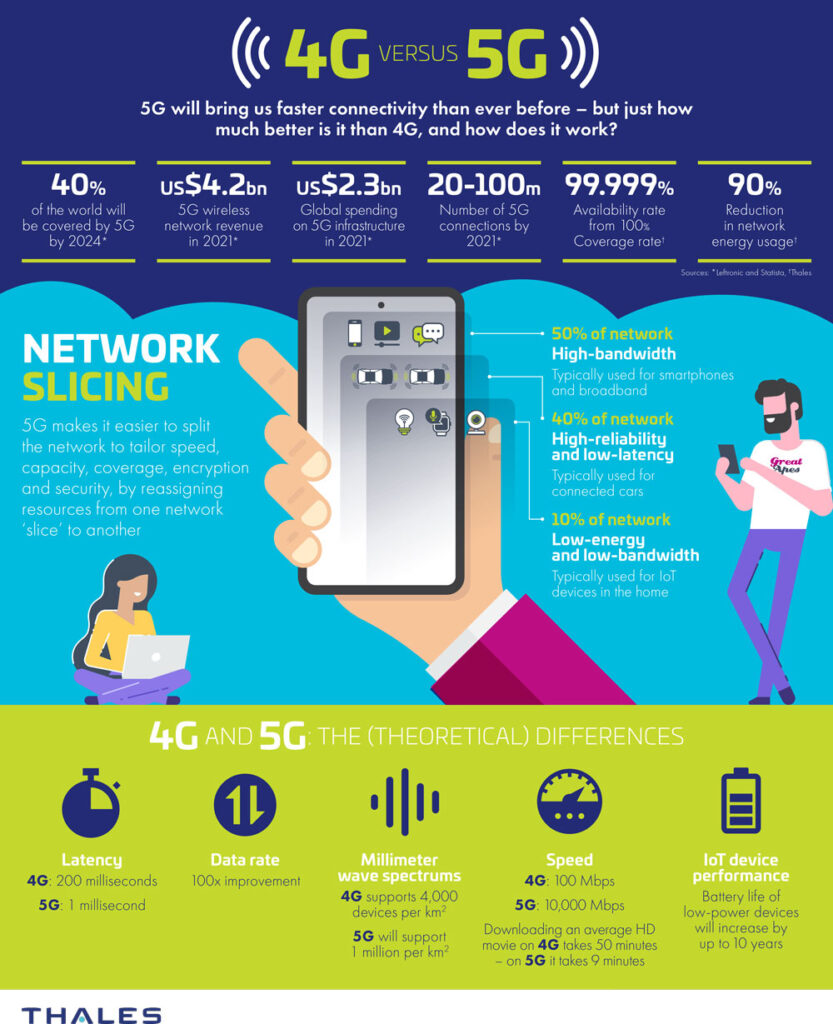 Where is 5G available? What phones have 5G?
5G works on newer model phones for the time being. These are some of the 5G compatible phones that are available at Wing:
Wing is currently operating under a 5G network. If your current cell phone is under 4G LTE but is 5G compatible, you can bring it over to Wing and get fifth generation service. The beauty of 5G compatible devices is that they work using both 4G LTE and 5G technology!
Does 5G cost more to get?
5G is no additional cost at Wing, as it comes with the cell phone plan you choose. For example, if you have a 3GB plan under 4G LTE you have 3GB of data to use in the monthly cycle under 4G LTE or 5G network speeds. If you want an unlimited plan for $55/month at Wing, and your device is 5G compatible, then it's no more than $55/month to use your unlimited data on the fifth generation network.
Does 5G only work on unlimited plans?
No, 5G is not specific to only unlimited cell phone plans. As mentioned above, someone with a 500MB, 1GB, 2GB, 3GB, and so on cell phone plan can access 5G so long as their cell phone is compatible with 5G network.
Is 5G bad?
Contrary to popular conspiracy theories, there is no evidence that backs any claims that 5G is a hazard to your personal health. False conspiracies about 5G that have been debunked include:
5G did not create COVID-19
5G is not speeding up COVID-19
5G does not have to do with government lockdown measures
5G does not kill birds or plant life
5G is not a radio transmission for COVID-19 to travel through
5G is not affiliated with military weapons
Howard Jones, the head of technology and communications at UK's mobile network provider EE, released a true statement saying, "The wavelengths that 5G uses and will use are all entirely safe and have been in research and testing for decades" (Bowler 2020). No wonder it's taken so long to finally launch 5G – developers have gone through the processes to make it as safe as possible! So, no, you don't need to protect yourself against 5G.
Those are the 5G facts. We hope you feel more informed, and less worried, after reading the wireless truth about the revolutionary fifth generation.