Wing reviews are valuable pieces of feedback that provide insight for our company, our customers, and our future customers. They help break down the quality of Wing service and offer individual perspective on the list of features we have available. Whether it's about our great savings, easy switchover, around-the-clock customer service, cheap cell phone plans, or convenient app, our users have really positive feedback to share with us. Let's go over some of the best Wing Tel reviews to better understand our strong customer base.
Wing Reviews About Saving Money
Rob Webber, of MoneySavingPro, released a great article highlighting Wing, which includes cell phone plan comparisons and money saving information. How does Wing's Unlimited Plan compare to AT&T's Unlimited Plan? Wing users saw savings of $20/month or $240/year. On top of that, when comparing the most recent 2020 pricing, this was discovered:
The above screenshot shows the average savings a Wing user can get back when switching to a 3GB Data Plan on Wing as compared to a pricey Unlimited Plan from AT&T. The savings can equal about $492/year!
The most recent Wing reviews from MoneySavingPro have highlighted Wing's great savings among other benefits, such as great customer service:
The savings don't just stop at monthly plan options either. Webber from MoneySavingPro also mentioned a smart money-saving tactic by getting a refurbished, or "Like New", phone from Wing as compared to a higher priced retail device. That is, of course, if you're looking to get a new phone entirely. With Wing, you're able to bring over your compatible device from another network as well. That could save you even more!
Here's some more valuable Wing reviews about customer savings: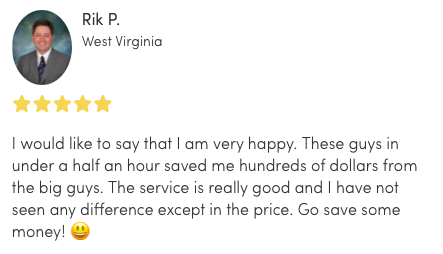 Wing Reviews About The Easy Switchover
One of Wing's greatest focal points is the quick and easy ability to switch carriers from the comfort of home, simply by signing up and texting a Wing Agent. Once you answer a short questionnaire about switching over, you're able to talk to a live Wing Agent who'll send a complimentary Activation Kit & Wing SIM card your way. Once they arrive in the mail, you start your easy activation process, which takes about 10 minutes. Wing users love the fact that they can keep their same phone and phone number, not lose any of their important phone contents, and never have to contact their previous carrier. They love it so much, in fact, they had this to say: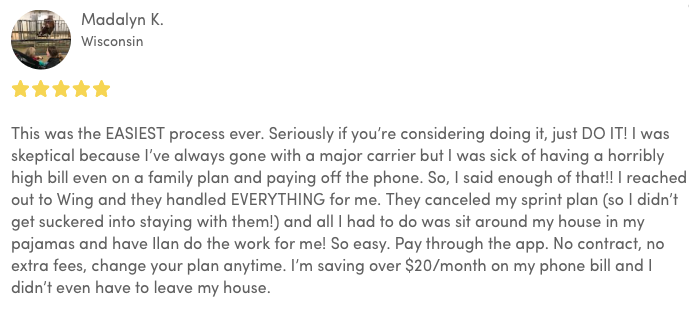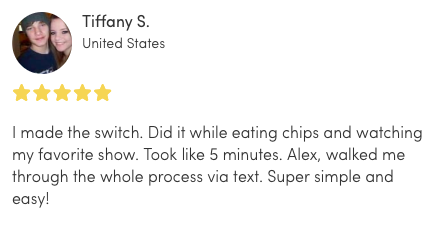 Wing Reviews About The Cheap Phone Plans
Wing has always maintained a strong focus on offering the best nationwide cell phone plans at lower costs for wireless customers. For example, a YouTube review from tech expert Stetson Doggett breaks down how the Unlimited Plus Plan from Wing at $55/month essentially matches the expensive $85/month Magenta Plus Plan from T-Mobile, offering the same 50GB of priority data, 20GB of hotspot data, 5G accessibility, and more.
With the Wing Unlimited Plus Plan, users can ultimately save about $360/year as Doggett expresses. He calls the Wing Unlimited Plus Plan one of the best plans on the T-Mobile network due to the cheap cost of saving $30/month.
Doggett also mentions that Wing's AT&T Unlimited Plan for $55/month recently acquired a data increase of 50GB priority data and is available on eSIM compatible devices, which is another cheaper phone plan he likes.
For a full Wing review from Doggett, we recommended giving this video a watch:
All of Wing's cell phone plans offer users unlimited talk and unlimited text at affordable prices. In terms of the cheapest phone plan, Wing's Flip Phone Plan truly takes the cake as one of the most affordable phone plans out there. AJ Mobile Money reviewed our Wing cell phone plans and came to find valuable features in our $12/month Flip Phone Plan, as well as our $15/month 500MB Data Plan, which include HD voice, hotspot, picture & video messaging, and caller ID for users who aren't interested in having too much data.
Best Customer Service Wing Reviews
Friendly customer service has always been a top priority at Wing. What makes the experience even better is that we provide 24/7 customer support to our users via our Wing Tel App or through call and text. We strive to make the experience easy, painless, and resolvable. Here are some Wing reviews that pay homage to our fantastic team of Wing Agents and customer service representatives: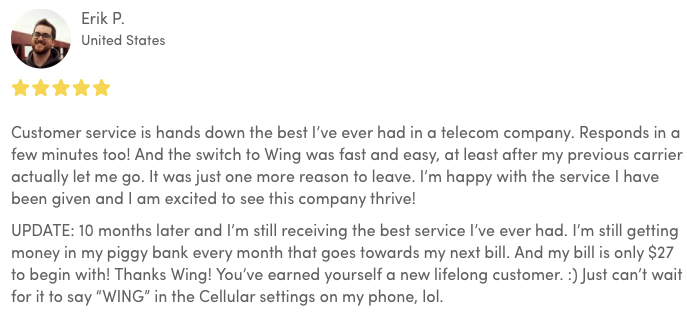 Wing Reviews About The Easy App
Our Wing Tel App available on Google Play for Androids or on the App Store for iPhones simplifies the Wing user experience by allowing users to manage their account, pay their bills, change plans, check their activity, contact customer support, and more from anywhere. It also features some of the strongest, positive reviews from real users. Let's take a look at what they have to say about our easy-to-use app: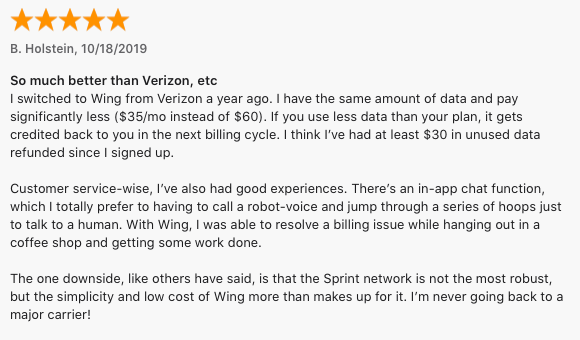 After checking out these Wing reviews, we hope you're sold.