Apple vs. Samsung is a comparison that inevitably runs through the minds of many new smartphone seekers. Though these two tech giants reign supreme in terms of wireless revolution, which one offers the unique selling points that are just right for you? In order to make an informed decision, let's discuss how both brands compare and contrast with their operating systems, personal customization, privacy & security, price point, storage space, camera quality, and battery life.
iOS Vs. Android? Operating Systems
The Apple vs. Samsung operating systems are both user-friendly, touch interfaces that boot to home screens. While Android is a Linux-based and PC-comparable system, iOS is an OS X and UNIX system that uses uniform design elements that draw users in on an aesthetic level. Android is an operating system which is used by many phone manufacturers (such as Samsung, OnePlus, and Android One devices) while iOS is strictly used for all Apple products (iPhones, iPads, Apple TV, etc.). The range of devices compatible with Android make Android the world's most commonly used smartphone platform.
Speed
When comparing the speed of an Apple vs. Samsung device, it's important to feature two strong device examples for reference. Let's go with the Samsung Galaxy S20 Ultra vs. the iPhone 11 Pro Max. The Samsung Galaxy S20 Ultra has 12GB of RAM and a Qualcomm Snapdragon 865 7nm+ processor, while the iPhone 11 Pro Max has 4GB of RAM and Apple's A13 Bionic 7nm+ processor. When performing a speed test on these devices, app launching was faster on the Samsung Galaxy S20 Ultra overall at 1 minute and 5 seconds while the iPhone 11 Pro Max had a speed of 2 minutes and 4 seconds. To the average smartphone user, opening and closing a bunch of apps won't really matter in the long run. However, when it came to taking the phone's temperature, the Galaxy S20 Ultra hit 104F while the iPhone 11 Pro Max was at 98F during this speed performance. Facial recognition unlocking speeds on the iPhone's Face ID surpasses that of the fingerprint reader in the Galaxy S20 Ultra, the same study showed.
Check out this YouTube video of the full speed test of these Apple vs. Samsung smartphones:
Apps
On the topic of speedy app closing, the home screen of an iOS device features rows of app icons, while an Android device allows widgets that display auto-updating information pertaining to current notifications (such as weather or emails). Apple's App Store carries about 1.96 million apps for download while Android's Google Play Store holds approx. 2.87 million apps. However, Apple tends to have a better selection of third-party apps such as Tweetbot 5, an iOS exclusive of Twitter.
Software Updates
Now, in terms of Apple vs. Samsung software updates, iOS is generally the faster update option with consistent updates available to strengthen the features and capabilities of Apple devices. Android's software updates happen less frequently and are rolled out to individual phone models. Whereas when there's a new iOS update, it becomes available to everyone with an Apple device at the same time and can be installed on all models.
Voice Commands
Google Assistant on Samsung Android devices is a voice-based virtual assistant that goes beyond answering your everyday questions and replying to messages as it also works out appointments, keeps track of your calendar, and gives verbal reminders. Google Assistant allows voice search and dictation, making the voice command experience a bit more conversational. Siri for iOS, on the other hand, dictates texts and emails, schedules your important events, and is compatible with car audio and navigation. Both voice command features for Samsung and Apple do the verbal trick, but Google Assistant feels more like a personal assistant to a busy smartphone user.
Call Features
In terms of iOS vs. Android call features, iOS's Phone app has more user-friendly abilities such as the feature to reply to an incoming call with a text message (as opposed to taking the call), set a callback reminder, and turn on Do Not Disturb mode. Samsung Galaxy smartphones have these abilities as well, but they're not embedded across the entire range of Samsung devices (such as older models).
Messaging
iMessaging on Apple devices make it easy to communicate with other iPhone users as it features "Delivered" and "Read" receipts under each text message, alerting the sender that their message was successfully sent. Samsung Android Messages works in a similar way, however it's a separate downloadable app. iMessaging allows iPhone users to feel like they're part of a distinct community. Often times when an iPhone user texts an Android user, they know they're an Android user immediately due to the "green" message box that appears in the thread instead of the comforting "blue".
Video Chat
iOS uses the popular FaceTime for video calls, that can be made over WiFi or data, to other iPhone users. Android's most popular video calling app, Google Duo, is available on the Google Play Store for high-quality video calls to all smartphone devices (in this case, both iPhone and Samsung). FaceTime feels like the most well-known video calling platform, but it limits video calls to iPhone users only. Google Duo, for both iOS and Android, is that video chatting app that makes video calling all the more inclusive.
Apple Vs. Samsung? Personal Customization
Though Apple's ecosystem and brand have tons of customized, personal features, like allowing you to carry over the contents of your iPhone to your MacBook or iPad etc., Android has always been about personalizing the Samsung device in your hands. Starting with the home screen widgets, Samsung Android phones let you place apps anywhere, even out of immediate sight, and give you the flexibility to swap out the default phone launcher to an alternative on the Google Play Store.
Android also allows their users to download third-party replacements for services that already come within the Samsung phone including media players, keyboards, and web browsers- giving the Android user more versatility in options.
While Apple has created mind-bending customizations with their iOS updates (such as Dark Mode and folder organization for apps), the culture surrounding Android customization is more expansive. Androids don't put their users in iOS boxes. The ability to download third-party apps to act as substitutes for the default settings in a Samsung device make the personal customization experience limitless.
Apple Vs. Samsung? Privacy & Security
When it boils down to privacy & security protection, Apple iPhones take the hidden cake. The Touch and Face ID are sharper, and there's a lower risk of downloading malware-infested apps on iPhones. This is not to say that Samsung devices aren't safe & secure, because they are, but the constant privacy & security updates launched by Apple mean each iPhone device feature state-of-the-art content and data protection.
Apple Vs. Samsung? Price Point, Storage Space, Camera Quality, and Battery Life
Since we earlier went over the iPhone 11 Pro Max and the Samsung Galaxy S20 Ultra, let's take a closer look at some of the key specs from both devices then briefly touch on the more general price points, storage sizes, cameras, and battery life components from Apple vs. Samsung smartphones.
iPhone 11 Pro Max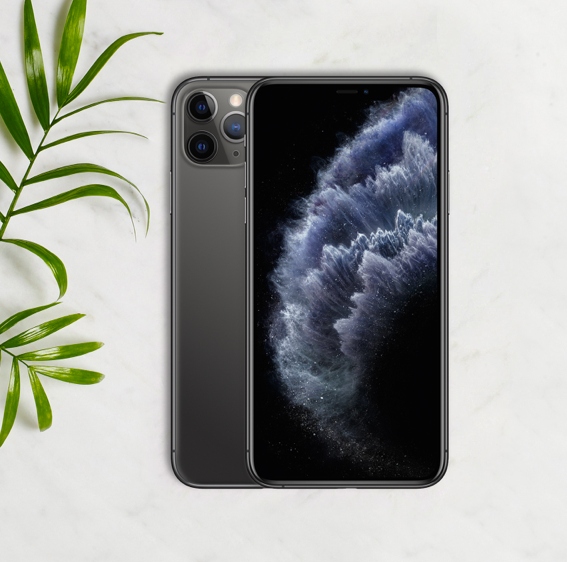 Price: Starting at $52/month or $1049.99
Storage: 64GB
Camera: Triple-lens with triple 12-megapixel ultra wide angle, wide angle, and telephoto
Samsung Galaxy S20 Ultra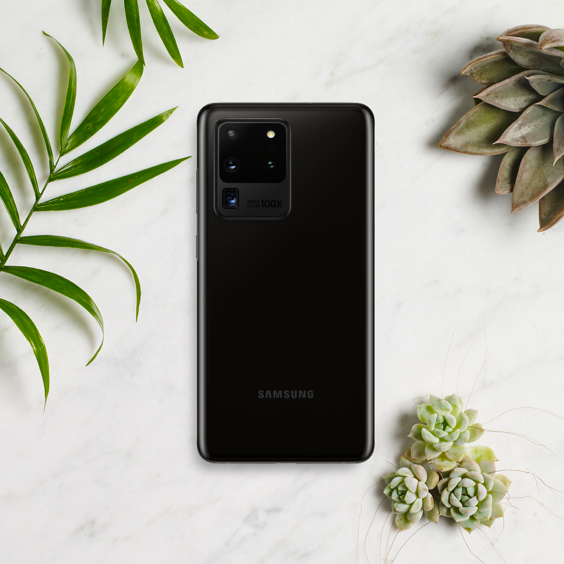 Price: Starting at $61/month or $1249.99
Storage: 128GB
Camera: Five lenses (including background depth sensor) with 40-megapixel selfie, 48-megapixel telephoto, 108-megapixel main wide-angle, 12-megapixel ultra wide, and 8K Video Snap camera
Before we continue, both of the above smartphones are 5G compatible!
These newer smartphone models from the minds of Apple and Samsung are competitively priced in the four-digit category due to their recent release dates and powerful engines. If you want a more affordable option for an Apple vs. Samsung device, check out this list of some Apple and Samsung phones for under $300! When looking at the Samsung Galaxy S20 Ultra, for just an additional $200 you can get double the storage space, more advanced cameras, and, possibly, a little extra battery life than the iPhone 11 Pro Max. However, you might still want some more broader information encompassing an overall device selection to help you make your decision between Apple Vs. Samsung:
When it comes to Samsung Android devices, they're relatively cheaper than iPhones. For example, the new Samsung Galaxy A01 at Wing is only $99.00! iPhones tend to be more expensive due to their hype, brand image, and general attention from the public.
Both Apple and Samsung offer users great storage space, but more storage means higher price. Storage space truly depends on the device model you choose. It's a tie.
The camera quality is a toss-up between Apple vs. Samsung, as newer Samsung Android devices have top function lenses (like wide-angle, low-light HDR, and scene optimizer) and iPhones have great camera features (such as Live Photos and better third-party app capturing). However, the iPhone 12 Pro and iPhone 12 Pro Max include LiDAR scanning technology in their cameras which creates an all-new depth map and augmented reality!
In early iPhone models, the battery needed a charge everyday. But this is no longer the case, as newer iPhones can go a few days without charging if not used all the time. Still, Samsung smartphones may have a longer battery life- if only by a few extra minutes. No matter which brand you choose to go with, you can always check out this article on how to get the best battery charge on your phone!
All in all, it's your smartphone decision to make. Both Apple and Samsung have great iPhones and Androids that meet the wants of savvy shoppers. We hope these selling points led you to the right smartphone for you.